Comfort Mexican Food Classics: Albondigas Soup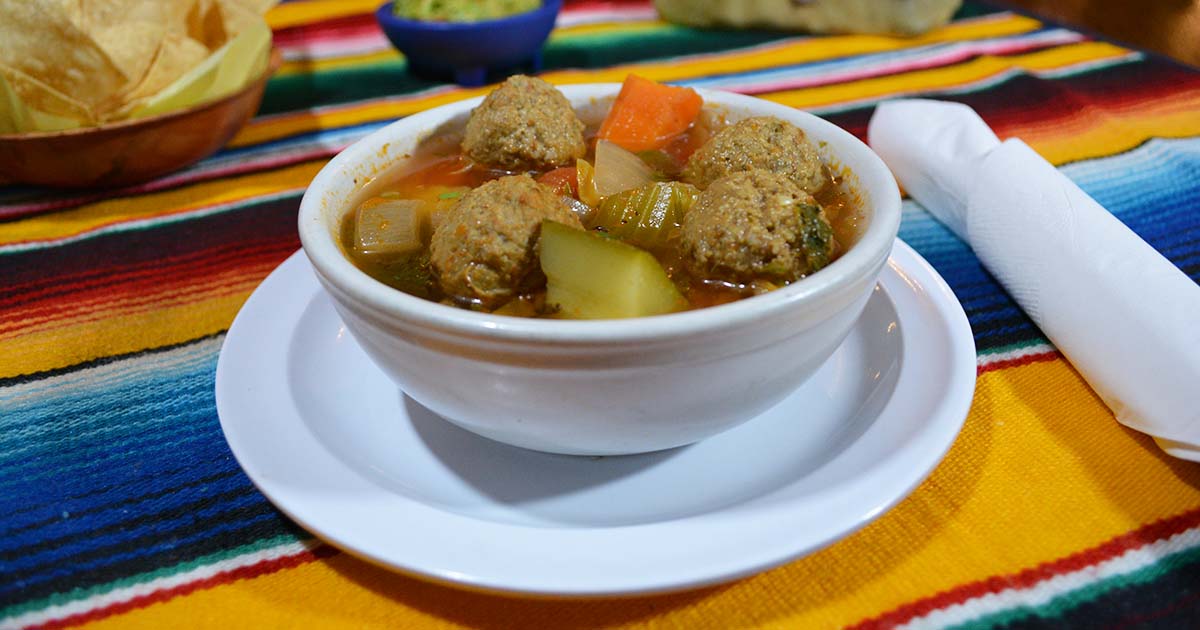 One of the best comfort Mexican food classics is albondigas soup. The main ingredient used in this soup are meatballs. Historically, this dish dates back to the 16th century. When you're in the mood for some old-fashioned comfort Mexican food classics, this hearty soup is just what you need.
At Pancho's Mexican Restaurant, we make it just like your grandma's with Mexican meatballs and veggies simmering in a clear broth. And you can add this side dish to any entrée or have it as as your main dish.
Best Comfort Mexican Food Classics
Did you know that albondigas translates as 'meatballs' in Spanish? Albondigas soup is a traditional Mexican meatball soup simmered with zucchini, carrots, and potatoes in a clear broth. When you're craving a home-cooked meal, it's a comforting soup. Or when you want something to warm you up on a cold winter's day. It's also one of our all-time favorite soups.
The flavored-packed meatballs are made with ground beef, Chile Serrano peppers, onion, garlic, oregano, and tomato. And these meatballs add a ton of flavor to the clear broth which is also seasoned with a little extra fresh cilantro and oregano.
Once the soup is served, squeeze fresh lime juice over it to bring out the flavors even more. You can also add a spoonful of your favorite salsa. And don't forget to ask for plenty of our warm corn tortillas.
Traditional Mexican Meatballs
In addition to the albondigas soup, there are several other dishes using these traditional meatballs. For example, the Spanish dish albondigas a la Andaluza which is a delicious meatball stew. And albondigas de carne en salsa, meatballs in a creamy, flavorful sauce.
Not only are meatballs hearty, but they are also ideal to eat at any time of the year.
If you decide to make albondigas yourself, don't use too much water. If you do, no amount of seasoning will be enough to compensate for the excess water. But lucky for you, we serve albondigas soup daily at Mexican Restaurant in El Cajon.
---
---
---